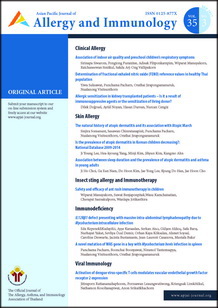 Volume 35 Number 3 September 2017

ORIGINAL ARTICLE
Association of indoor air quality and preschool children's respiratory symptoms
Sirinapa Siwarom et al.
Determination of fractional exhaled nitric oxide (FENO) reference values in healthy Thai population
Yiwa Suksawat, et al.
Allergic sensitization in isolated kidney transplanted patients – Is it a result of immunosuppressive agents or the sensitization of living donor?
Dilek Doğruel, et al.
The natural history of atopic dermatitis and its association with Atopic March
Sinjira Somanunt, et al.
Is the prevalence of atopic dermatitis in Korean children decreasing? : Analysis of the national statistics data, 2009-2014
Ji Young Lee
Association between sleep duration and the prevalence of atopic dermatitis and asthma in young adults
Ji Ho Choi et al.
Safety and Efficacy of Ant Rush Immunotherapy in Children
Wiparat Manuyakorn et al.
IL12Rβ1 defect presenting with massive intra-abdominal lymphadenopathy due to Mycobacterium intracellulare infection
Eda KepenekliKadayifci et al.
A novel mutation of WAS gene in a boy with Mycobacterium bovis infection at spleen
Pacharn P et al.
Activation of dengue virus-specific T cells modulates vascular endothelial growth factor receptor 2 expression
Jittraporn Rattanamahaphoom, et al.